Why I Chose to Edit My Closet to Benefit the FACE Foundation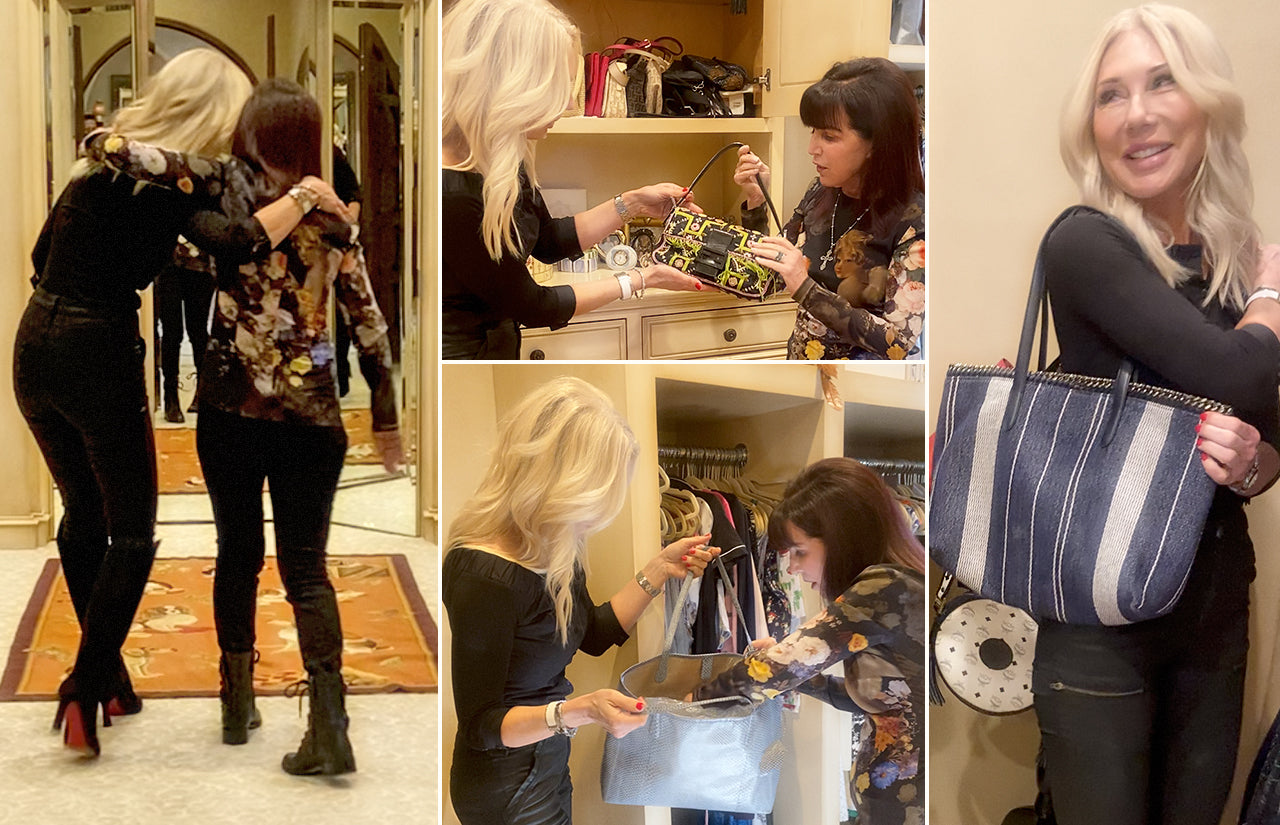 Years ago as a co-founder of FACE Foundation—"Saving Pets and Helping Families"—I was always trying to think outside the box for fundraising ideas (being a woman wedged in between two male founders) and that's when I had the idea to start "Closets for the Cause." My friends, many who were already FACE donors, and myself would "edit" our closets (in other words go in there and donate what we weren't using or needed) and give items to FACE to consign on the resale market. This has raised well over $90,000.00 to help families save their beloved pets!
Then, COVID hit. Stores shut down, fundraising events came to a screeching halt and the closet edits stopped. A very talented graphic artist Cheryl Passer and myself with the help of a website builder Hentie Lombard built and launched a website, WagnPurrShop.org, so that we could sell the donated items we had online. The timing turned out to be perfect, as everyone was shopping online. Additionally, the trends toward shopping resale and shopping sustainably were really taking off. The idea for Wag N' Purr Shop was conceived on June 1, 2020. It debuted on March 6, 2021, and we had almost 1300 items for the launch.
As we prepared to celebrate our first anniversary (I still call it a birthday) I contacted one of my dearest besties Marie Green. Marie has been a stylist in her life journey and is a resale genius fashionista. She is smart, beautiful, blond, bold, chic, sleek and just plain sweet. We "hammed it up" in my closet and pulled many special items for the Wag N' Purr site. It was such a fun time, no stress, just the pure joy of giving for such an important mission. I also delighted in the idea of others being able to purchase some of my cherished, gently loved items a great bargain (nothing retail or close to retail on WAG!).
These are the items (and their stories) that I "edited" out of my closet for Wag N' Purr Shop's special one year anniversary sale:
[SOLD] 14K Jade & Gold Doxie Disc Pendant
This pendant has a gold doxidog on its face with a genuine ruby for an eye. This was a gift from a dear friend who dabbled in jewelry.  I have had Dachshunds for many years and still have six. This piece will be beautiful on any garment from a sweatshirt to your best little black dress.
[SOLD] Rolex Ladies Stainless Steel Watch with Black & Diamond Bezel
I really love the Rolex brand, and they never go out of style. I high polished it as the shiny can give you the look of being white gold.  My fave for many years—always dependable and very easy to read with the black face.
Two-sided White Gold and Sapphire Oval Pendant Cross Necklace
I wear a cross pendant almost every day, and I have many that I love. I purchased this on resale because of its uniqueness. It has pink sapphires (gorgeous) on one said and turns to reveal blue sapphires on the opposite side. A wonderful piece because it is so versatile. Don your blue jeans for the blue side or turn it over when you're feeling "pretty in pink." Sapphires come in so many colors, and I just love these stones. The black 5 strand beaded chain makes it even more unique and interesting.
Piaget 18K Rose Gold & Diamond Wristwatch
This beauty is called "The Dancer." It's timeless, petite and so pretty. I've had it many years and because I switched to a larger faced watch, I only wore it about a dozen times. I now mostly wear white stainless or gold. It's "purrfect" and lovely. I think because I didn't wear it much it stopped running, so I just put a brand new Swiss movement in it. This is truly a watch for the small stature woman. Exquisite.
[SOLD] Chole_Leather Wallet on a Strap
This red-burgundy beauty is so roomy and absolutely the best crossbody for school or travel. You can even put glasses in the front compartment, and there's room for your cell phone, cash and credit cards.  I also purchased this piece at a resale store. Many times, I was fortunate enough to get brand new pieces shopping those resale sites, and now WAG is one of them!
Christian Louboutin Black "Sweet Charity" Crossbody
This is yet another resale purchase, and I have carried this bag several times. I'm a sucker for Bows and Louboutin accessories. This one is difficult to part with, but anything for WAG!
[SOLD] Gucci Guccissma Sukey Tote Bag
What more can I say about Gucci? It's hotter than ever. The vintage bags sell as well as the new ones, and now some of the new ones are challenging old Gucci. My husband bought me my first Gucci bag 40 years ago. I bought this gem because it's Gucci and chocolate brown, which is a really hard to find color in handbags. I took this love to many outings. It's highly sought after. Even when I was not carrying it, I was enjoying looking at it in my collection.
[SOLD] Jimmy Choo Silver & Gold Wristlet
This little treasure is new with tags. I bought this for my evening bag collection and trust me, in the last couple years there surely have not been many evenings out. This one is hard to let go of, but now I live in casual clothes. My wish is for it to travel to a prom in May or June—or maybe a New Year's Eve party somewhere—but no matter what, I hope the new owner will love it as much as I do.
Louis Vuitton Cerise Crossbody
The name given to this colorful LV is Empriente Twice.  Louis is one of my favorite brands, but I am sometimes astounded when a salesperson doesn't know you and acts uppity.  I just went a week ago to look at the collection and they said "45 minute wait," I said "ha ha ha" and left. Someone else will get my business! I only carried this beauty a half dozen times too! It's beautiful but I don't wear pink often, although this one looks more raspberry. My lesson learned here is don't venture far out of your box. It's stunning and LV still carries it in black. Collectors piece. It's also very user friendly with many zip compartments.
[SOLD] Louis Vuitton Foldable Jewelry Case
This is another totally cool LV accessory. The accessories at LV never fail to temp me. Small cases, small wallets, you name it, I love them all. This is a retired piece in perfect condition and I used it for travel.  One of my besties bought me another travel piece, and to not be to greedy, I just had to let it go to WAG. The sale of this piece can easily pay for an ultrasound needed to save a dog or cat.
Nancy Gonzales Handbags
These hand-crafted handbags come from South America. Nancy G. as we call her has been selling bags in the U.S. since 1998. I've met Nancy, and she's been donating bags for our mission for many, many years.  These are from my personal collection. What I love most about her bags is that they are so very user friendly. They come with so many compartments that it is really easy to access anything you are looking for in your handbag. They really are the very best "daily drivers" in the world and can easily go day to evening. They are easily recognizable as a Nancy design and are totally classic.
[SOLD] Prada Handbags
Another "made in Italy" favorite of mine. I love Prada because they are easy to carry, whether leather or nylon. The Prada label, no matter where I am shopping, always catches my attention. The two pieces I have selected have different stories as do all my bags.  I am a HUGE fan of rouching, so when I saw the little black bag I could not resist. I selected the Navy nylon convertible wristlet because, frankly, Navy is very hard to find. I'll miss that little lightweight lovely.
Stella McCartney
Last but not least: Stella McCartney. Paul and Linda's daughter! Famous in her own right, and in my mind, the Queen of Vegan. Living in the animal world, you have got to love her brand and her message.  The black lightweight tote is one of my faves as I also have it in Denim. Named Falabella, this is one of her most popular handbags, and a staple for any wardrobe, vegan, vegetarian or not. Buying a Stella is honoring her work.
1 comment