The Amazingly Versatile Scarf — An Indispensable Accessory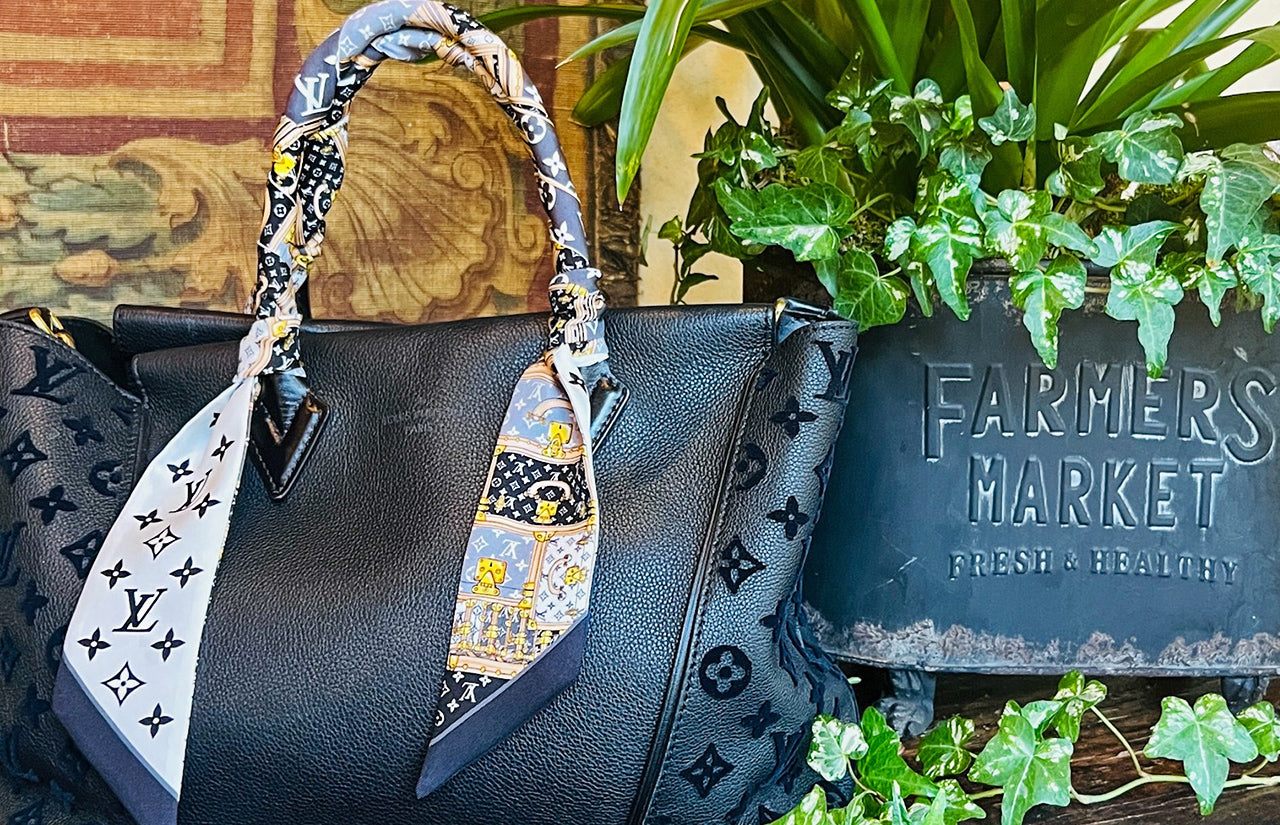 Did you know that scarves have been around since Ancient Egypt? 
Queen Nefertiti herself was known to wear a scarf around her head as she adorned extravagant, jeweled headpieces. Today, scarves aren't just an accessory for royalty—they're a go-to accessory for almost everyone!
In this month's fashion spotlight, we're going to pay homage to the scarf, and how this square or rectangular piece of fabric has become an indispensable accessory. Read on to see how you can use a scarf to elevate your style with very little effort, and then check out some of the beautiful scarves currently available at Wag N' Purr shop! 
A Little Inspiration
Tie a Scarf onto Your Bag for a Fun & Chic Look
Scarves are a great way to accessorize and protect your bag! Smaller, narrow "Twilly" scarves are super versatile, and perfect for this look. 
Wait! What's a Twilly?
If you want to be "on trend" you need to know that a twilly is a long, narrow scarf that you can use and/or wear in so many different ways! Tie them in your hair, around your neck, or even around your wrist for a chic bracelet look. As noted above, they look great tied into a bow on a handbag, or wrapped around its handles to add personality and protection. If the twilly is long enough, you can wear it as a belt, and some twillys have even been spotted around the necks of our more stylish furry friends.
Wear it in Your Hair 
A scarf can turn a simple ponytail into a chic up-do, or you can channel the 70's and wear it as a headband. Get creative!
Accessorize Your Wall
Many scarves are so beautiful, they're like a work of art—which is why lots of people hang them on their walls! Look for interesting patterns, or colors that complement your decor. Vintage scarves are great options, as well as many designer scarves. Google Hermès framed scarves and be amazed! We have a gorgeous Hermès scarf for sale right now in fact!
Wear it as a Belt or as a Sarong
One of the coolest things we've seen people do is to replace their belt with a long, narrow scarf. Thrown on your favorite jeans, a button-down half tucked, and a colorful scarf belt to complete the look.
Another look we're seeing a lot of as the summer swim season is around the corner is wrapping a large scarf around the waist, sarong-style. You can literally take the look from pool to casual outdoor dinner. Who needs a skirt?!
Tie it Around Your Neck or Wrap it Over Your Shoulders
Some things never go out of style, a scarf tied around your neck immediately adds color, texture and or warmth to your look. As we're sure you know, there are many ways to tie or wear a scarf (133,000,000 search results last time we checked!), which is one of the reasons why we love this indispensable accessory. Just the shape and size of a scarf opens up lots of different options. We like an extra large scarf over the shoulders, and belted, or large billowy scarf tied just so around the neck. Makes us want to run to our closets right now to play!
Ever Wondered About the Origins of the Scarf? Here's a Brief History.
In early 19th century France, rumors have it that Josephine Bonaparte was gifted a pashmina scarf by Napoleon himself — inspiring her to collect a confirmed collection of over 400 scarves over the following three years.
Josephine Bonaparte may have been the first to follow the scarf trend, but accessory did not find widespread popularity until cashmere shawls became the height of fashion in the 19th century. However, as silk became easily accessible in the west, and manufacturing improved, designers moved on from cashmere to silk accessories.
We continue to look to the French when we reflect of the transformation of the silk scarf from a trend to a fashion staple. In 1937, designers at Hermès began producing luxurious square scarves printed on raw silk imported from China. Hermès created iconic designs, often equestrian inspired, which were adored by fashion lovers from their inception. The Parisian fashion house gained attention when stars like Grace Kelly and Audrey Hepburn were seen globe-trotting in their silk scarves.
Today, designers like Louis Vuitton and Gucci have followed the path laid out by Hermès—capturing the essence of their brand in a simple, chic way. We love the way the scarf has made its way back into the spotlight, and we hope you'll get inspired to play with the scarves you have at home, or to shop for something new at Wag N Purr!
We can't wait to see the way you use scarves to elevate your spring looks! Remember to tag and follow us on social media: @WagNPurrShop