In the Closet with Cini & Marie: A Mother-Daughter Closet Edit for Charity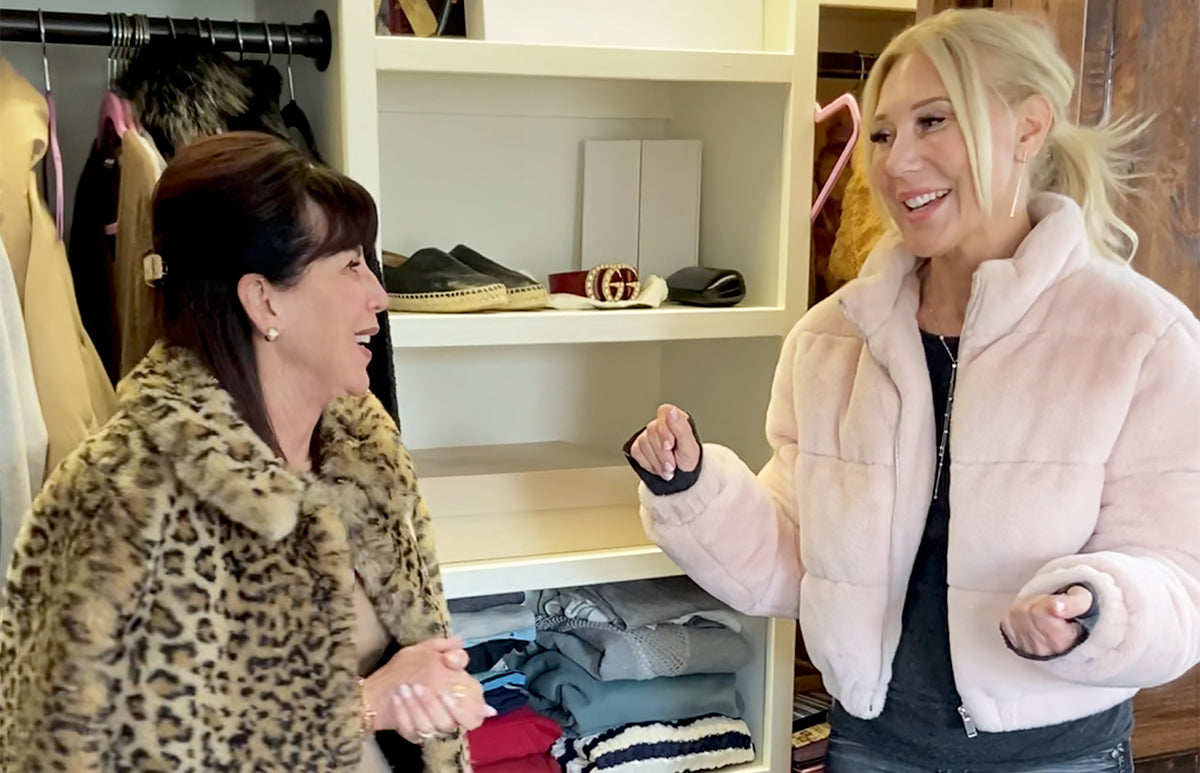 WELCOME BACK TO…
"In the Closet with Cini & Marie"
Fun closet edits for a cause!
In this episode of "In the Closet," we're featuring some fab donations from Wag supporter Marie Green, and her daughter Vanessa. We're excited to feature this mother-daughter duo who share a passion for both fashion and charity.
Marie is a close friend of our founder, Cini Robb. These two have known each other for many years and bonded over their faith and love of fashion. Marie is not only a fashionista, but also an entrepreneur who owns two Dry Bar locations in La Jolla, CA. In her previous life, she spent many years working as a professional stylist and has always been a source of inspiration to her friends when it comes to fashion.
– DONATIONS FROM MARIE'S CLOSET –
MCM Visetos Card Case

This "mini" card case is perfect to hold your credit cards or business cards. The bright white color makes is easy to find in your handbag!

GUCCI Silk Cube G Print "Twilly" Scarf

This wonderful bright fashion forward "Twilly" by Alessandro Michelle for Gucci can be worn in so many ways. Tie it around your neck to complete a chic outfit, adorn your favorite handbag, or use it to hold your ponytail!
 
Marie also donated two beautiful wallets, which SOLD even before we could this blog posted! One was a unique Louis Vuitton with a beautiful purple interior, and the other, a classic Chanel. 
.................................................................................................................
– DONATIONS FROM VANESSA'S CLOSET –
 

GUCCI Faux Pearl Accents Leather Belt

One of our fav items from Vanessa's closet is a gorgeous Gucci belt (pictured above). This faux-pearl encrusted leather belt was purchased at the Gucci store in Union Square, San Francisco. Vanessa has left the west coast and now lives in New York but was thrilled to donate such a special piece from her collection to Wag!

MCQ Unisex Sunglasses

These timeless McQ by McQueen sunglasses, with their timeless style, are perfect for summer and instantly give you that "star" quality when you wear them!




GUCCI Marmont Matlasse Chevron Zip Wallet

This wonderful, high demand Gucci leather Pearly GG Marmont zippy wallet super stylish and functional! So pretty, you won't want to hide it in your bag!
 
.................................................................................................................
Since Marie spent years styling celebs, we thought the least we could do is get some basic organization tips while we were in her closet! 
Marie's Tips for a Fit & Fab Closet
–1–
Edit your Closet Every 6 Months
It may sound like a lot, but Marie advises people to go through their closets twice a year. If you haven't worn or used an item since your last edit, consider donating it. Wag N' Purr Shop loves donations of handbags, jewelry & accessories. Our beneficiary, the FACE Foundation, takes donations of clothing and other items through their Closets for a Cause program.
–2–
When Editing Your Closet, Make 4 Piles
#1 TAILOR / REPAIR
We all know what it's like when we push something to the back of the closet because it needs repair or altering. Make your pile, and then set a date on the calendar to take those items in the be hemmed, altered, repaired, professionally cleaned, or whatever is needed. Some of these items may again be some of your favorites!
#2 DONATE
Whether you purchased something on impulse and it never really looked or fit right, or your own personal style has changed, sometimes it's just time to let go of an item. Some items can be donated to a quality resale boutique (hint hint), and others may need to be given to a place like Goodwill, Salvation Army, or a women's shelter. No matter what, please do not add to the landfill by tossing it in the trash.
#3 STORE
Here in San Diego, we don't exactly have four distinct seasons, but still: summer is summer, and winter is winter! A closet that has room to breathe and is not jam-packed is a happy closet. In the summer, make space in drawers and on hangers by removing items that will clearly not be worn until the crisp air of the fall season arrives. The logic applies to your summer items when the temperatures have dropped.
#4 KEEP
These are your current "go-to" items. These kind of edits make is so much easier to get dressed for any kind of outing—and much more fun!
–3–
Dark to Light
Marie keeps darker colored clothing towards the front and light in the back because it's easier to see. What a simple but useful tip!!
................................................................................................................. 
We are so thankful we have supporters, and friends, like Marie who are willing to open their hearts and closet to help animals! Shop Marie and Vanessa's closets today on Wag N' Purr Shop! All profits benefit the FACE Foundation's mission to save animals in need of life-saving medical care. 
Interested in your own closet edit? Reach out today to donate and potentially be featured!
1 comment