The Benefits of Shopping Resale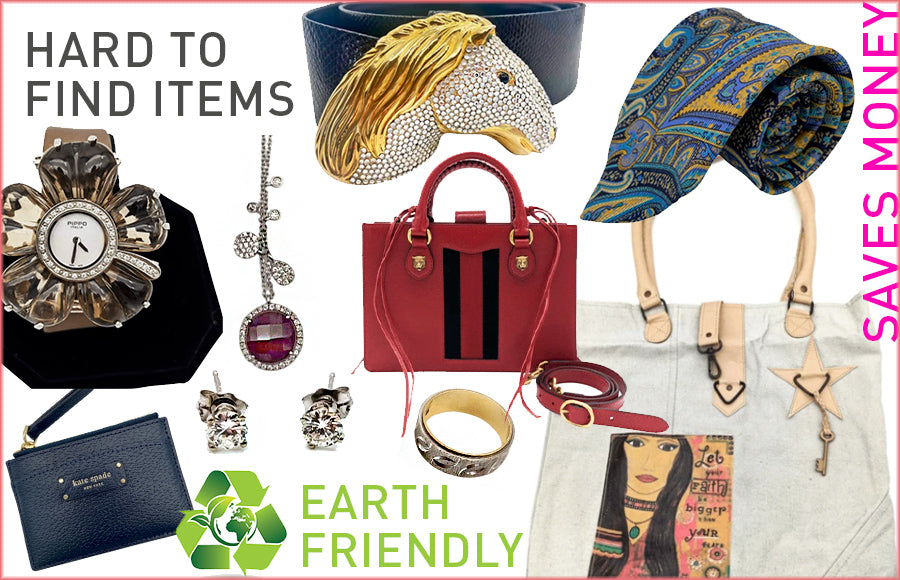 Have you been hearing a lot about the craze of shopping resale lately? Well, the hype is true, and Wag N' Purr Shop is perfect example of an online resale store that offers terrific and unique items at bargain prices! There are many advantages of buying second-hand goods: helping the environment; saving money, and discovering unique items. Shopping resale is the way to go! Plus, a bonus of shopping at Wag N' Purr Shop is that 100% of profits go towards helping pets in need of lifesaving care. So, not only will you get great deals at wagnpurrshop.org, you'll also feel great about your purchases!
Here are some of the top benefits of shopping resale at Wag N' Purr Shop:
Designer items at discount prices – OK, let's be honest…who doesn't like a discount!? Especially when it's on a designer item that sweeps you off your feet, right? There are many great reasons to buy second-hand goods (or "gently loved" items as we often like to say), but getting a designer handbag, pair of sunglasses or piece of jewelry at a bargain might take the cake. Take a look for yourself and check out these chic Louis Vuitton designer sunglasses, this Gucci designer handbag, or these gorgeous Michael Christoff designer earrings.
     
Diverse collection of great handbags – Sometimes, a great handbag is your best friend! It accompanies you everywhere and holds all your essential items. A beautiful designer handbag can also be the envy of your friends, or an investment that you'll treasure for years to come. Wag N' Purr Shop has a great collection of second-hand handbags at a fraction of the price of buying a new one. These bags are in excellent condition, and you'll find everything from satchels and handle bags to totes and evening bags. Take a look at our extensive collection here.


Unique and hard-to-find items – We all know how disappointing it is when retail stores sell out of—or worse, discontinues—an item you had fallen in love with. When you shop second-hand or resale stores, you can often find those long-lost items. Check out this Mary Frances one-of-a-kind vintage handbag, or these Porsche 80's aviator sunglasses.


Environmentally friendly – When you choose to shop resale, the impact on the environment is immense. Literally, tons of items found in many of our closets are dumped in landfills every month. You can play your part in saving the environment by not only buying second-hand but also donating gently used items to resale shops like Wag N' Purr!


New arrivals almost daily – Unlike regular stores, where you get a new collection of items every season or twice a year, Wag N' Purr Shop gets to update its collections almost every day! We encourage you to check out our New Arrivals collection on a regular basis, as you never know when that perfect designer handbag or hard-to-find vintage item will be donated and suddenly appear on our site. But unique items sell fast, so check back frequently!
     
Resale also includes new items – You know how it is when you buy something and never use it. By the same token, many of the items donated to Wag N' Purr Shop have never been used at all. All of the great products you see at Wag N' Purr Shop are generously donated to us, and they range from gently used to brand new with tags! Hint: Click on the search icon and type the word "New." You'll be amazed at how many new items have been donated to Wag N' Purr!


Pragmatic – More and more, people are looking at how much they are spending on new merchandise. Smart shoppers know that buying second-hand allows them an easy way to cut down on spending while still getting great quality items. This is also a great lesson for kids. When you show them what you found at Wag N' Purr, you're helping to teach them to spend responsibly.


A sense of adventure – When you visit our online resale boutique at wagnpurrshop.org, it's like going on an adventure. Since you don't know what you are going to find on any given day, it's like a treasure hunt! We're always adding new items to our collections, so we're confident that you're going to find something fun and fabulous at Wag N' Purr whenever you visit.


Turning rare finds into profit – If you have a keen eye, you just might find a unique or genuine vintage item that can even turn you a profit. That's right! You never know what you might find at a second-hand or resale shop, and sometimes, if your timing is good, you can land yourself a sweet deal on something you can later resell for a lot more money. Of course, you may want to keep that rare find for yourself, but we won't tell if you decide to flip it!


Escaping the mall – If you are someone that hates going to crowded malls and facing the chaos that can often be found there, then shopping at Wag N' Purr Shop resale boutique might be the perfect alternative for you.
And, if those aren't enough good reasons to shop resale at Wag N' Purr Shop, here are even more:
Gifts for animal lovers – If you have a friend or family member who loves pets, or all animals, consider buying them a gift, or gift card, from Wag N' Purr Shop. You can let them know that the gift they are receiving helps save the lives of family pets! 
We also sell fun pet items – If you are a proud pet parent, then you will be delighted to know that at Wag N' Purr, we sell pet items as well. From bottles and bowls to pet apparel, you'll find many unique and affordable pet items, like this adorable porcelain cat bowl, or this cute dog sweater for your "spoiled" pooch.
    


Helping pets – Last but not least, 100% of Wag N' Purr Shop profits benefit FACE Foundation and pets in need of emergency care. FACE provides financial assistance to pet parents faced with life-saving care for their furry family members that they would otherwise be unable to afford. So, whenever you buy something from our resale boutique, you are helping us save the life of a pet in need.
So, there you have it! These are many the advantages of shopping resale, especially at wagnpurrshop.org. To recap: 1) The impact of shopping second-hand on the environment can't be overstated; 2) You'll find unique, quality merchandise at bargain prices; and 3) You'll help save pets in need of life-saving care. What are you waiting for? Shop Now