Organizing your Closet - the KD Method!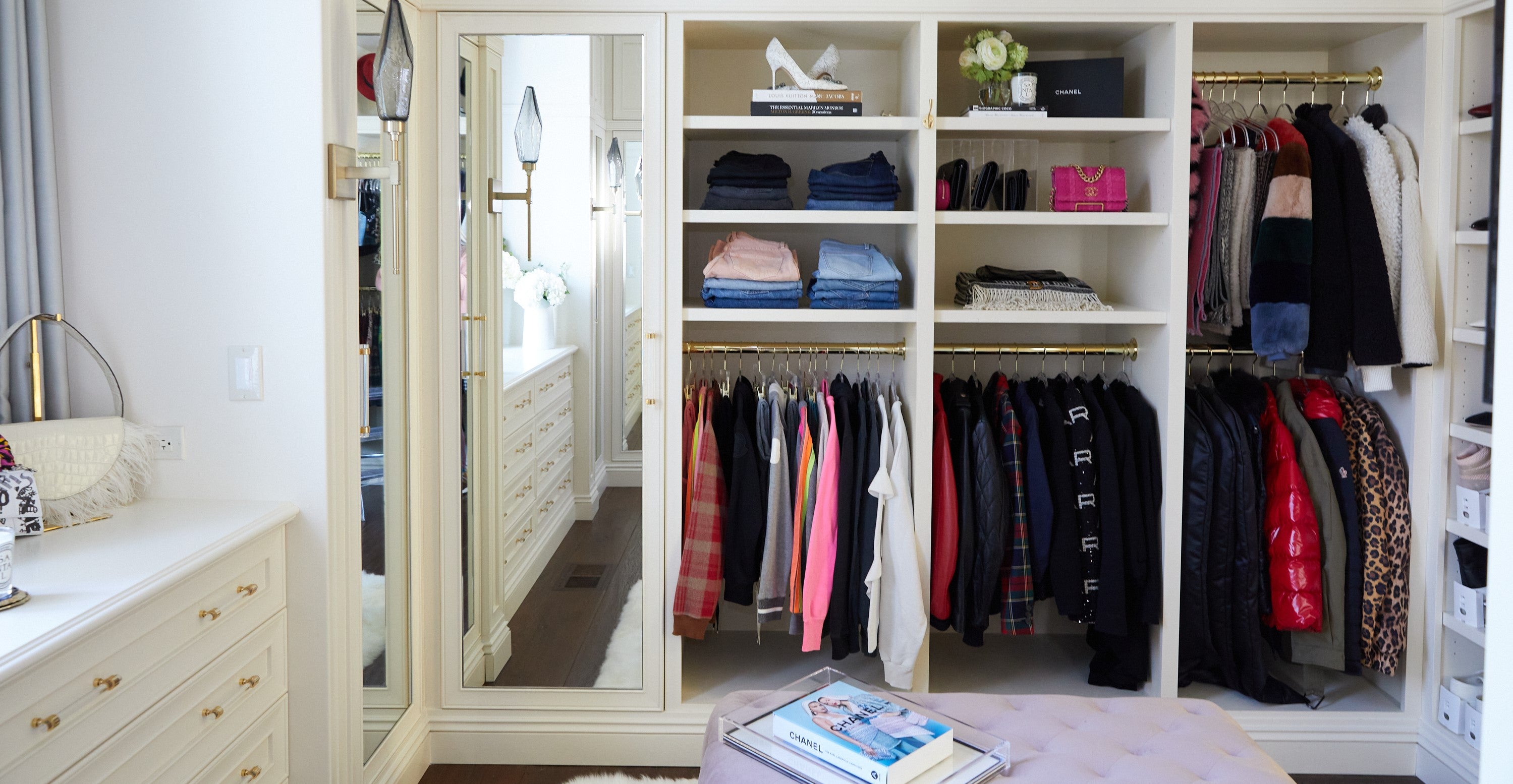 Want to organize your closet, but not sure where to start? Taking on an organization project can seem overwhelming if you don't have a plan. So today I wanted to share with you some insider tips on how to organize your closet using #TheKDMethod.
✨ Organize by colors of the rainbow -- start with pink / red and end with brown / black. This is my favorite way to organize hanging pieces as it's not only visually appealing, but it's easier to put together outfits this way.
✨ Use slim hangers and make sure they're all the same. I prefer clear hangers but you can also use black. This will maximize your space and keep everything looking neat. 
✨ For sweaters, I like to use shelf dividers to keep each stack in its place. This not only saves room but it almost forces you to keep your sweaters organized and folded (instead of just tossing them back on the shelf).
✨ My favorite space-saving hack for sneakers would be to use the Shoe Space Savers. Cannot recommend these enough! They stack the shoes instead of having them lay side-by-side.
✨ For heels, I organize them heel to toe to save a little more space. If you're really low on space, you can use your most stand out shoes to style the closet. They double as decor!
✨ For boots, if you have extra hanging room and a low rack I like to hang them using boot hangers. If there's more shelf or ground space I will use quilted boot shapers.
Biggest secret to a beautifully organized closet? Make sure it's full of items you love! Edit your closet and donate gently loved items to Wag N' Purr Shop to help pets in need. We accept donations of:
Women's fine and fashion jewelry

Women's designer and on-trend handbags and wallets

Women's accessories (belts, scarves, hair adornments, etc.)

Men's bags, wallets, jewelry, ties & accessories

Women's and Men's watches

Women's and Men's sunglasses

New, small pet products (collars, leashes, small toys, etc.)

Designer Clothes for our Closets for a Cause Program 
All Wag N' Purr Shop proceeds will benefit the FACE Foundation and its mission to save pets from economic euthanasia. Click here to donate or for more information of what we do and do not accept. 
Blog written by our FACE Friend and Wag N' Purr Shop Customer, Kayla Dane Style + Design! Photos also provided by Kayla.