Fall in Love with Lil Hobbs!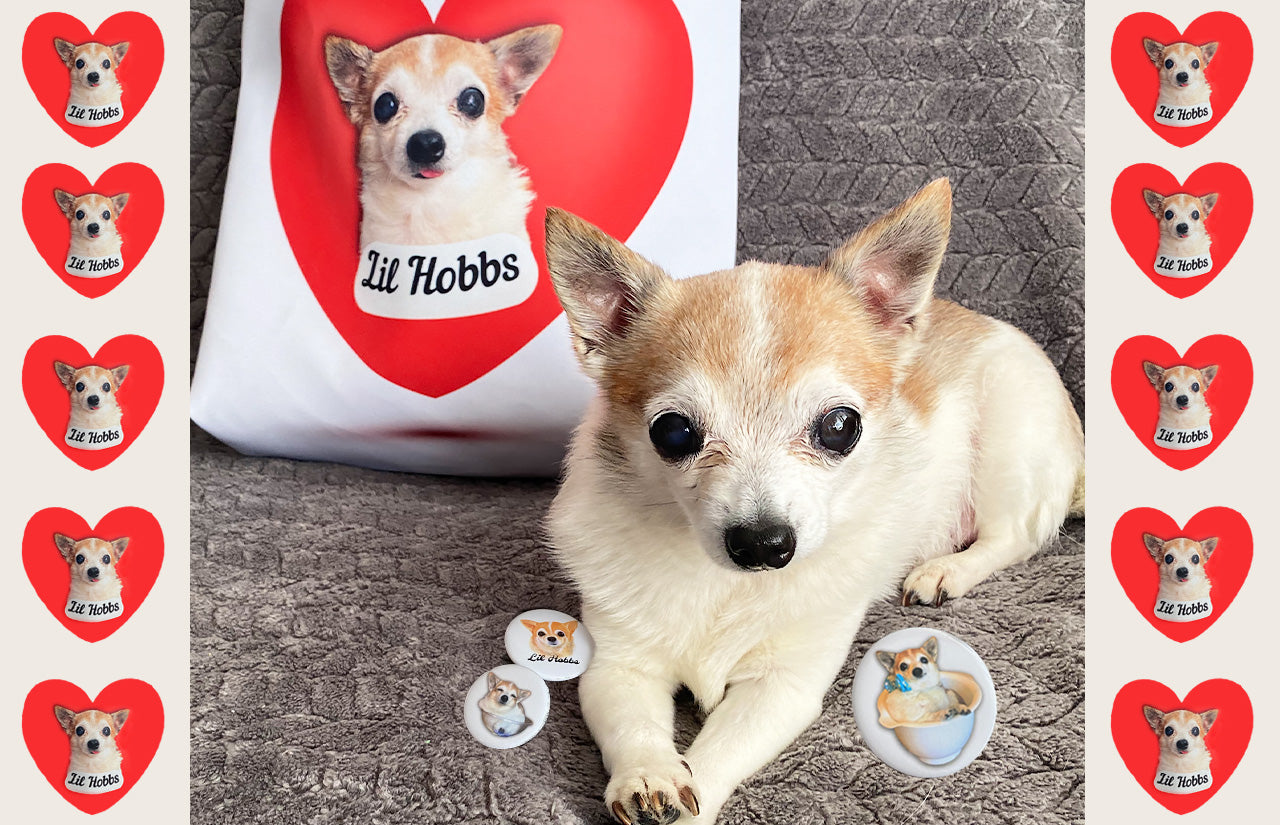 Fall in Love with Lil Hobbs
We've teamed up with the Insta-famous rescue pup Lil Hobbs to create a sweetheart of a collection featuring some of his favorite outfits and other adorable products! As always, all profits benefit pets in need of life-saving care. View the collection here!
Want to know more about this "Lil" cutie? We talked to Lil Hobbs and his mom, Kathryn, to get the scoop:
We are so excited for this collaboration between Wag N' Purr Shop & Lil Hobbs! What made you want to team up with us?
We absolutely love Wag N' Purr Shop and FACE Foundation and your mission to provide lifesaving financial grants to pets that require critical care.  This work has helped save 3,200+ beloved pets from economic euthanasia and has helped to feed many pets in need of food. We're very fortunate to have a social media platform and we hope we can raise awareness of great organizations like this.
How did you & Lil Hobbs meet, and when?
Kathryn: Lil Hobbs and I met in 2016 when I was living in New York City. I found his picture on PetFinder from an organization called Tails of Love. I was looking for a senior dog and I saw Hobbs' profile. He had the sweetest eyes and I instinctively felt like he would be the right dog for me. I put in an application and met with Hobbs and his foster mom. It was a perfect fit, so I officially adopted him on Christmas Eve of 2016. We lived in NYC for two years and then took a cross-country trip to move to San Diego. Now he lives a very pampered and happy life after his rough start as an NYC stray. 
What inspired you to name him Lil Hobbs?
He was named Lil Hobbs by his foster mom, because of his hobbley walk (caused by his arthritis and mobility issues). I thought it was the cutest name ever and it suited him perfectly, so I kept it.
What compelled you to make an Instagram for Lil Hobbs?
I made his Instagram mostly for fun and because I wanted to create a daily feed where my friends and family could enjoy seeing his pictures and updates. I love making Hobbs content, so it's become a really fun side hobby for me.
How does it feel to be "insta-famous?"
It's pretty surreal! We never imagined so many people from all over the world would follow him and have so much love for him. We have an incredibly kind fan base, so I'm always really appreciative of their message and comments.
I actually made Hobbs his own P.O. box and he gets a ton of sweet letters and postcards! Hobbs is a pretty high maintenance celebrity, but I think it's well deserved. 😊
How do you two like to celebrate Valentine's Day?
Usually Hobbs does some special Valentine's Day photoshoots to share with fans, and of course we love to send and receive Valentine's cards from our friends.
Tell us about the Lil Hobbs Collection for Wag N' Purr Shop!
Lil Hobbs selected some clothing items from his personal collection and we created some custom bundles just for Wag N' Purr Shop! Here are some details on those -  
"Lil Hobbs Loves You" Tote Bag: A spacious and trendy tote bag to help you carry around everything that matters.
Lil Hobbs Spiral Notebook: This custom wire-bound notebook will be a great daily companion whenever you need to put your thoughts down on paper!
Lil Hobbs Blanket: A soft silk touch throw blanket that's ideal for lounging on the couch during chilly evenings.
100% of profits from Wag N' Purr Shop go back to helping pets in need at FACE Foundation.