Accessories Storage and Upkeep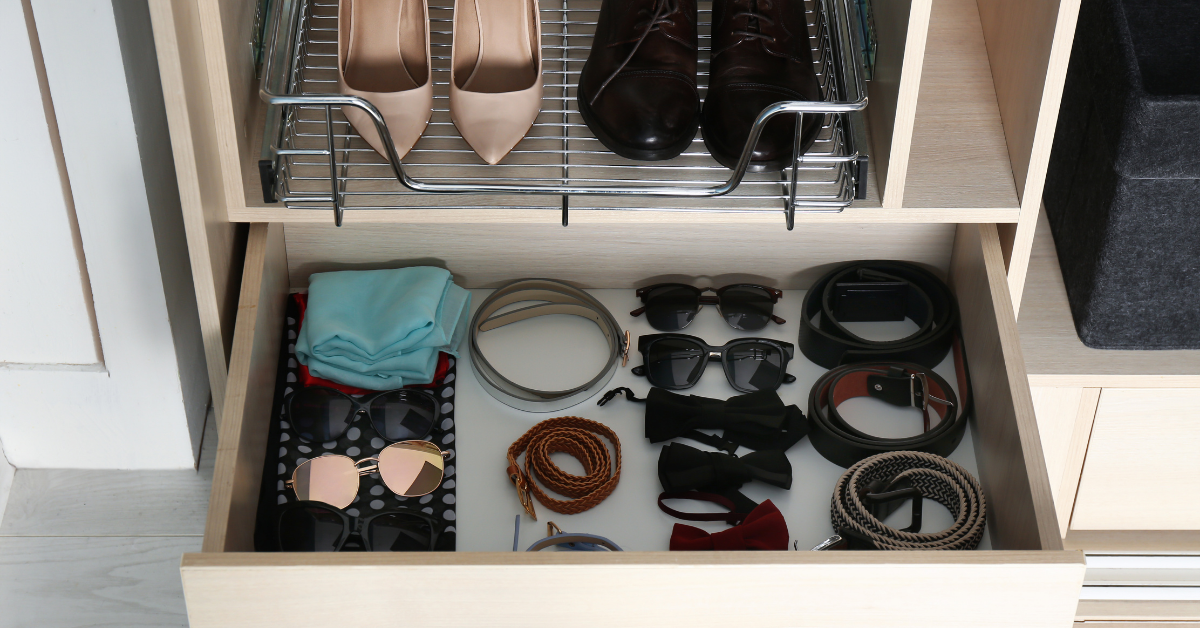 Storing accessories properly is an essential part of upkeep and will minimize damage. Below are some tips I've discovered for accessory storage and upkeep. 
Jewelry
Storing jewelry properly can prevent tarnishing, tangling, and damage. I store my jewelry in a jewelry box or in the original box that the piece came in. It protects them from dust and excessive sunlight. I also have anti-tarnish pouches for silver jewelry. 
Putting together an amazing outfit then picking out jewelry to match only to find the jewelry damaged or tarnished can totally ruin your morning. To try to avoid this, I recommend inspecting your clothing, handbags, and accessories every few months. Create a pile of items to keep, to donate, and to repair. Bring the repair pile to a jeweler or watch YouTube videos on how to clean and repair the items at home. I've learned amazing storage and cleaning tricks from YouTube! My biggest pet peeve is when my necklaces get tangled. The tips in this article have saved me more than once! My first tip for storage and repair is to keep necklaces in a jewelry box. Another randomly effective way to prevent tangling is to store necklaces in drinking straws. Unclasp the necklace and thread one half through the straw, then clasp the necklace like normal. 
Sunglasses
Storing sunglasses in their cases keeps them protected and can save space. To put them on display, try an acrylic organizer. I installed acrylic shelves from Amazon to hold my sunglasses and it looks really cute! Keep the cases and cleaning clothes when possible -- they come in handy, especially when you're traveling. Packing sunglasses in a tote bag or suitcase is much easier when you're not worrying about them getting smushed! 
To clean sunglasses, use anti-fog spray or dish soap with a cleaning cloth. If the sunglasses get damaged, at-home glasses repair kits are available for purchase online or in stores. Damaged or broken sunglasses can also be brought to a sunglasses store or optometrist's office for repairs. Common problems such as the arms becoming too wide or the lenses getting scratched are easy fixes. They are able to transform them into prescription glasses too. 
Belts and Ties
Conveniently, belts and ties can be stored the same way. Hanging them on a rack keeps them from wrinkling while also saving space. Another way is to wrap them up loosely and keep them in an organizer. The Container Store typically has closet organization products for belts and ties.
Leather belts can be cleaned using saddle soap or standard leather cleaner and a soft cloth. Rubbing alcohol typically works for removing small stains. If you prefer to leave it to the professionals, drop off your belts at a leather spa or cobbler. Another feature of the cobblers and local shoe repair shops are that they can punch holes in belts to make them fit tighter or looser. Leather hole punching tools are available for purchase online and in hardware stores if you like DIY projects. 
For keeping ties clean, I recommend dry cleaning or hand washing them. To remove creases or wrinkles, ties should be ironed or steamed. Amazon sells miniature irons and garment steamers for when you're traveling or short on space. 
All proceeds from the Wag N' Purr Shop benefit the FACE Foundation and save animal lives. The FACE Foundation's Save-a-Life Program allowed Karma, a cat whose owner suffered financial hardship due to COVID and couldn't afford Karma's veterinary care, to receive life-saving treatment. If you'd like to donate gently loved items or used luxury handbags, the donation form is located here. We have information on what items we accept on our website. Your donation and location may qualify for our White Paw Pickup Service. Please reach out via our Contact Us page or email us at info@wagnpurrshop.org.